Featured Dead Girl – September 2013
Posted by KC Carr on September 23, 2013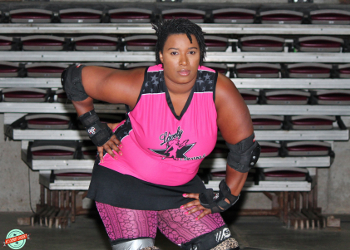 Our featured Dead Girl for the month of September is ChocaZilla!
Name: ChocaZilla
Team: The Lovely Lethals
Number: Beer:30
Position(s): Blocker
Seasons with Dead Girl Derby: 1
Seasons with the Blacksnake Rollergirls: 1




How she discovered Dead Girl Derby:
"I have known about DGD as long as I have known about roller derby in the KC metro. My first season as a skater was with BRG in St. Joseph, and DGD coaches and players trained us. They come up to St. Joseph at least once a week in order to help out. So when I moved to KC, it was the obvious choice of places to play."

Origin of her derby name:
"I was at a cookout with old friends in St. Joseph having a few drinks and joking around about possible names… this was the only "child appropriate" one we came up with. I'm okay with it…I think it is fitting."

Past injuries:
"Nothing major so far."

Favorite skater:
"Ohhh, that's hard… I would have to say Anya Neezenbeg. I love her so much. I wanted to quit so many times my first season because I didn't believe I could do it. She believed in me and pushed me to keep going. She has also helped me so many times during this season with DGD."

Proudest derby moment:
"There are soooo many! But I would say they mostly revolve around times I have helped someone with a skill or drill and seeing them improve their ability because of something I showed them."

What sets her apart in Dead Girl Derby:
"Nothing. I don't think I am any better or more passionate about the game than any other person on this league."
One Response to "Featured Dead Girl – September 2013"
September 23, 2013 at 8:32 am

Love me some Choc! She's my next ex-wife!