Featured Dead Girl – February 2013
Posted by KC Carr on February 18, 2013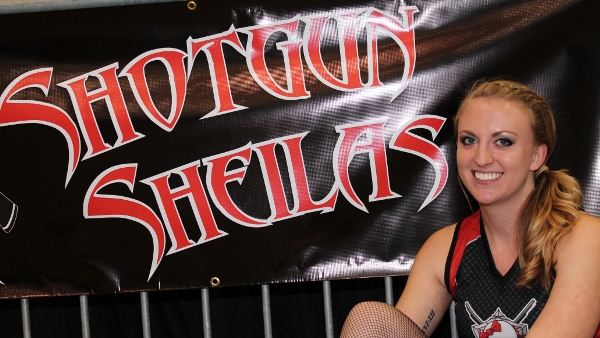 Our featured Dead Girl for the month of February is Hittie Kittie!
Name: Hittie Kittie
Team: The Shotgun Sheilas
Number: Me-OW
Position(s): Jammer
Seasons with Dead Girl Derby: 2
How she discovered Dead Girl Derby:
"My derby wife, Anya Neezenbeg, works at my apartment office, and I met my former neighbor, Ref Tacular, at the dog park. They showed me the world of derby, and I couldn't help but fall in love with the sport."
Origin of her derby name:
"I kinda have a thing for Hello Kitty, so Hittie Kittie was a clever way to tie that into my derby persona. I was going to call myself 'Serinasaurus,' but that's a mouthful!"
Past injuries:
"In the 2012 championship game, I tore my left iliopsoas (it's one of the major hip flexors and allows you to lift your leg up). Huge thank you to Dr. Jake at Chiropractic Life Center for getting me through physical therapy and putting me back on the track!"
Favorite skater:
"It depends on the reason why they are my favorite. I admire Turnher & Burnher because she is an all-around a great athlete, has the most character, and displays the best sportsmanship of any girl on the league. Pippi Strongblocking, my captain, is one of my favorites because she inspires every skater because she can do ANYTHING derby and teach anything derby. And finally, Dir-T Diana because she was the skater I wanted to grow up and be after I saw my very first derby game."
Proudest derby moment:
"The clear choice here is winning the 2012 championship after an undefeated season, but that is a proud TEAM moment — we earned that together."
What sets her apart in Dead Girl Derby:
"I am one of the sweetest no-pants-wearing girls out there!"
One Response to "Featured Dead Girl – February 2013"
February 18, 2013 at 4:11 pm

She really is the sweetest girl out there! My favorite Derby girl EVER!!