3 Reasons Hale Arena Will Change Everything for Dead Girl Derby
Posted by KC Carr on January 31, 2013
Unless you've been living under the roller derby Rock of Gibraltar for the last couple of years, you've probably heard someone in the KC Derby Digest offices complaining about River Roll Skate Center, the hole-in-the-wall dive the Dead Girls used as their game venue for the last two (phenomenal) seasons. The problems with this establishment are far too numerous to list in an introductory paragraph, but don't worry, we'll get to that soon enough.
So imagine our joy, our exuberance, our unmitigated pants-peeing elation and the impromptu dances that followed when it was announced, shortly before the new year, that Dead Girl Derby would be playing its fourth season at Hale Arena — which is, incidentally, where the Kansas City Roller Warriors played for a while before they moved on to Municipal Auditorium.
It's a very exciting time to be a Dead Girl, or for that matter, a Dead Girl fan, because this major upgrade in venue will no doubt change the face of the league for good… and here are the reasons why.
---
3. Small venues stifle growth.
This should be a no-brainer, but you'd be surprised how easily this one gets past everyone. As impressive as some of the crowds were for Dead Girl Derby in past seasons, "impressive" turns out to be a relative term when you consider that the crowds of 500+ they were drawing for their season openers meant it was shoulder-to-shoulder in the joint. Never mind actual seats; those disappeared within minutes. Just across from the start line, on the other side of the concrete partition, it was standing room only.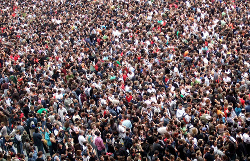 Pictured: Season 2, Game 1.
And that is no friggin' fun at a skating rink. Elbows get bumped, beers get spilled constantly, shoes get stepped on and skated over, and by the time the championship game rolls around in August, the crowds have usually dwindled considerably — due in no small part to the fact that so many people in such a small space creates a congestion that can suck the fun out of an event by halftime. Some nights, it really was a case of "it's so crowded, no one goes there anymore."
So the long and short of it is this: people don't have as much fun when it's wall-to-wall humanity. Attendance drops, a phenomenon which tends to perpetuate itself. As spectators continue to opt out of future games, potential skaters lurking in the audience think twice about trying out for the league precisely because they'd be playing in a skating rink with dwindling crowds… and you see where we're going with this. The league's attendance and participation — and by extension, incoming revenues — suffer to the point of strangulation simply because of the goddamn building they're in. Dead Girl Derby has effectively avoided this fate with one very smart decision.
The Blacksnake Rollergirls in St. Joseph spent their very first season at the St. Joseph Civic Arena. That's a venue that is head and shoulders above River Roll for many reasons, chief among them that it allows them to seat any size crowd they can reasonably attract at this point. The same will hold true in 2013 for the Dead Girls at Hale Arena. The promise of a new venue and room to move will draw crowds this league has never seen before. Guaranteed.
---
2. Location, location, location.
River Roll Skate Center is located in Riverside, which is convenient for exactly no one I know.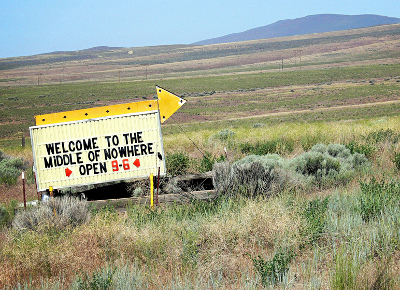 You might not realize how difficult it's been trying to sell a fantastic league like Dead Girl Derby to fans new to the sport: one mention of "a skating rink up north," and they're suddenly busy all weekend.
Throw out the name Hale Arena, though, and eyebrows raise instantly. Possibilities are pondered. Preconceived notions are reconsidered. You can practically see the wheels turning in people's heads, and while this goes hand-in-hand with the legitimacy issue we'll discuss next, it's also entirely related to the location of the venue.
Truthfully, Riverside really isn't that far, but it might as well be on the other side of the planet for some people. For many of them, the idea of Hale Arena will prove much more palatable and enticing, particularly when considering a sporting event they only thought they knew anything about. Games don't usually go particularly late, and there is plenty to do in the vicinity when the Dead Girls are done blowing the roof off the place. Afterparty, anyone?
---
1. One word: legitimacy.
One thing that roller derby constantly struggles with to this day is legitimacy. Convincing people that we're dealing with a bona fide sport instead of a World Wrestling Federation-style spectacle is an all-day job on its own, and that's when the players are skating at Municipal Auditorium. Drop them instead into a dank skating rink in Riverside, and you can just imagine what goes through people's heads. Needless to say, it doesn't do anything to help with the perception issue.
What it does, in fact, is unintentionally promote the misconception that roller derby is still an underground counterculture pseudo-sport geared more toward promoting fishnets and sex appeal than the tremendous athleticism and skill these ladies spend years trying to perfect. And that's a little insulting, frankly.
Look. Everyone, including me, realizes it's not as simple as just "finding somewhere else" to play. Dead Girl Derby is heavily involved in community work and philanthropy; they've routinely donated four-digit checks to places like Newhouse Battered Women's Shelter and Synergy Youth Resiliency Center, so a lot of the money they bring in goes right back out the door to great causes like these. And relocating is neither quick nor cheap; even I'm not familiar with the process involved in finding a location that both suits the need and fits the budget. There are a lot of things to consider, and expense is not the least of them.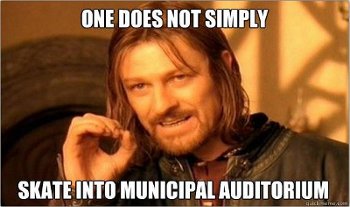 Having said that.
I realize that a great many roller derby leagues got their start in places no more upscale than this. The place isn't just a dump, though — it's also a terrible venue for a sport like flat track roller derby. Seating is only available on three sides of the track, to begin with. The view from the apex is naturally limited and consists entirely of flimsy plastic folding chairs that could break under the force of a really violent sneeze. The place reeks of mildew and gas station pizza, and I always, always carry hand sanitizer when I'm up there. Does a place like this really lend legitimacy to a sport that some people still think is staged in the first place?
Who are you going to take more seriously: a band playing at the Sprint Center, or a band playing at the YMCA down the street? It's the same principle here. Hale Arena is going to change absolutely everything for Dead Girl Derby and present possibilities for the future that they scarcely dared to dream about previously. In 2013 and beyond, these amazing ladies will only be limited by how far their ambition and intestinal fortitude will take them — not the venue they occupy.
---
One Response to "3 Reasons Hale Arena Will Change Everything for Dead Girl Derby"
January 31, 2013 at 5:04 pm

Fans tell me they're excited about the switch from Sunday bout nights to Saturdays as well!