Red Ripper
Posted by KC Carr on October 17, 2012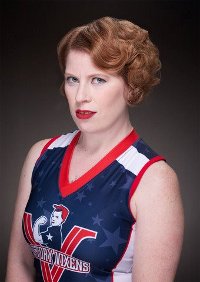 Photo by Phil Peterson.
The legendary Red Ripper — sole remaining founding member of KCRW and inimitable Victory Vixens mainstay, fan favorite, and heroine — announced this week on her Facebook page that she is officially retiring from the Kansas City Roller Warriors after eight years of unparalleled derby awesomeness that includes a WFTDA National Championship, a South Central Region Championship, a house championship with the Victory Vixens, and two MVP awards, among others.
KC Derby Digest kept it together long enough to contact Ms. Ripper about her many years as a Vixen and Roller Warrior, and she had this to say:
"My career with KCRW has been one hell of a ride and something that will always have a special place in my heart. I've met and skated with so many amazing people in eight years. I've gotten to skate in some of the greatest cities in the country and even been on TV! These have been some of the best and most exciting years of my life — thank you to everyone that has been a part of it!!"
— Red Ripper
3 Responses to "Red Ripper"
October 17, 2012 at 2:33 pm

Well done Red!

October 17, 2012 at 4:39 pm

This makes me very sad, but frankly, I have no idea how one person's body can endure 8 years of derby. Congrats to her for a long and successful derby career!

October 17, 2012 at 10:40 pm

8 years! Red Ripper is a credit to the sport and to our city. Her dedication and skill personifies what it means to be a Roller Warrior. Thanks for proudly representing Kansas City!